Air conditioner filters ensure better air quality for the occupants. It is used to filter solid containments like pollen, and dust from the room air. 
If these containments enter inside the Air Conditioner, it will decrease the AC performance.  And that's why we should always keep the filter of our air conditioner clean, thus it would give us better quality air and ensure product best performance.  
Why we should clean our Air conditioner filter
To keep air conditioner performance same as new even use after a long time.
Periodical cleaning of filter would decrease the air conditioner basic problem such cooling performance, noise.
Periodical cleaning of the filter would prolong the life cycle of the Air Conditioner unit.
Periodical cleaning of filter would increase the room air quality, as it filters the dust, dirt, and other allergens substance from room air.
Note: If there is dirt filling the filter and would not clean the filter in proper time, it would make the system work harder which would make the air conditioner less efficient and big problems to operate.
That's means AC will take more power to cool down the room than previous which results in more power will consume.
If you're rushed and reinsert it without proper drying. The wet or damp filter will grow mildew and mold, which can make your indoor air quality worse.
Advantage of using washable filter over disposable filter:
The disposable filters are not economical and environmentally friendly as they are not washable and reusable.
Washable filters are most environment-friendly and cost-effective as they can reuse again after washing and cleaning.
The best thing about a washable filter is you only need to buy it at once, and it will likely last for long life. This makes washable filters extremely cost-effective and helps reduce waste.
Walton high-tech industry Ltd. manufactures the washable filter for their Air conditioner which is cost-effective and environment friendly.
How to clean air conditioner filter?
Turn the Air Conditioner Unit off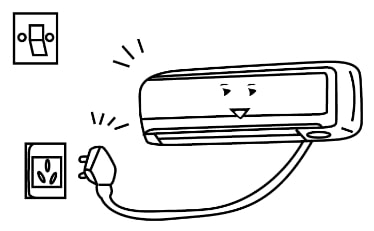 First, turn the air conditioner unit off and disconnect the power plug or switch off the circuit barker. This would ensure to prevent the electrical shock.
Removing the top panel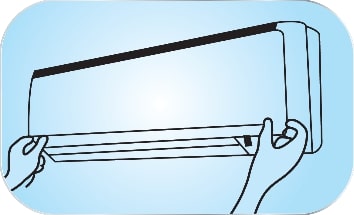 Find the indicated portion at both ends of the top panel
lift upwards to open the top panel from the Indoor unit
Filter Removing from Indoor Unit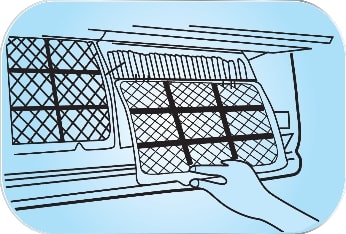 After upward the top panel takes out the air filter from the indoor unit by pushing downwards.
Cleaning and Washing the filter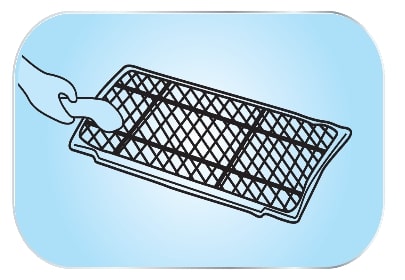 Use the vacuum cleaner to remove dust & wash it with water/ detergent and let it dry. (N.B: Use water below the temperature of 40 degrees Celsius for cleaning).
If there is excessive dust around the air conditioner, the air filter has to be cleaned more than once every two weeks.
Caution: It is better to clean the filter net from time to time (at least 15 days) to get a better performance of the AC.
Reinstall the Filter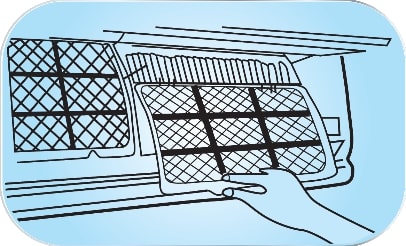 After thoroughly cleaning and drying the filters attach the two filter net in the specified place and close the top panel.
Note: Ensure proper assembly of both filter in the slot of indoor unit.
Tips
Air filters are delicate products so don't use a pressurized cleaner on them.
Always remember to unplug the unit first, you don't want to get an electric shock.
The filter ensures you have quality air and that's why you should always keep it clean. There are so many companies merchandising air conditioners and air conditioner filters now.
In Bangladesh, Walton is the best and giant air conditioner manufacturing company that leads the local market with all air conditioners products and also exports in different countries as a rewarded brand around the world. So, if you want one of the best air conditioners you can find one in Walton.
About Walton
From 1977 and early 2008 Walton started its journey in manufacturing refrigerators, freezers, air conditioners televisions, and other electrical home appliances. Now this company is providing not only home appliances but also electrical devices like smartphones, tabs, etc.
As a result, within a short period of time, this brand captured a substantial market share and has become one of the most trusted and prestigious companies in Bangladesh.
As it started its journey with manufacturing electronics and is one of the best electronics brands in Bangladesh, there might be many reasons to purchase a Walton product.
Walton air conditioner
Walton air conditioners will provide clean and healthy air for your family. They offer you Eco-friendly air conditioners. As we know air conditioners are pretty electricity-consuming, Walton air conditioners here are saving up to 70% of your electricity. You wouldn't have to face a lot of energy loss.
Most of their air conditioners come with smart control. So, you can control your air conditioner from anywhere in the house just from your smartphone.
As air conditioners must look very costly in the markets Walton air conditioners are pretty affordable for families with any financial state.
WALTON air conditioners would look pretty smart too in your house, as all of them come with a very stylish appearance.
Walton Air Conditioner Filter
Walton air conditioner filters are one of the best quality filters you can find in the market. And it's pretty easy to clean them too. Just follow the steps mentioned above and your filter will be clean as new.
There are more Walton products for your home. So, if you are thinking of purchasing a Walton air conditioner or want to know more about the Walton products you can visit: www.waltonbd.com/blog