In a household, or even in an office, refrigerators fulfill an important role of keeping food fresh. Even if you are a bachelor, you need one as they make life a lot easier. In Bangladesh, premium fridges play a very big role, and when it comes to brands, Walton provides us a good range of the best refrigerators to choose from. They have been there in the business for a long time, and are a very trustworthy name among the Bangladeshis.
Why Should You Buy Premium Refrigerators In Bangladesh?
Having your hand on refrigerators makes everything a lot easier. It makes life low maintenance and cuts down on the hassle.
You do not have to shop regularly as if you shop for a lot once and then store it in your no.1 fridge; it saves you time and energy.
You can even cook in large quantities and then heat up on emergencies.
So, basically, it saves you time and energy, but in order to do that, you have to make sure your fridge retains the quality and taste of your food and it keeps it healthy too. The models of fridges mentioned below are from Walton, and all of these are well known for keeping your food tasty, while simultaneously making things easy for you.
Walton Top 4 Premium Refrigerators
Premium Refrigerator: WFC-3D8-GDEH-DD (Inverter) 
Premium Refrigerator: WFE-3A2-GDEL-XX
Premium Refrigerator: WFB-2E0-GDXX-XX
Premium Refrigerator: WFB-1H5-GDXX-XX
Below are full details of the Top 4 Walton Premium Refrigerators in Bangladesh
Premium Refrigerator: WFC-3D8-GDEH-DD (Inverter)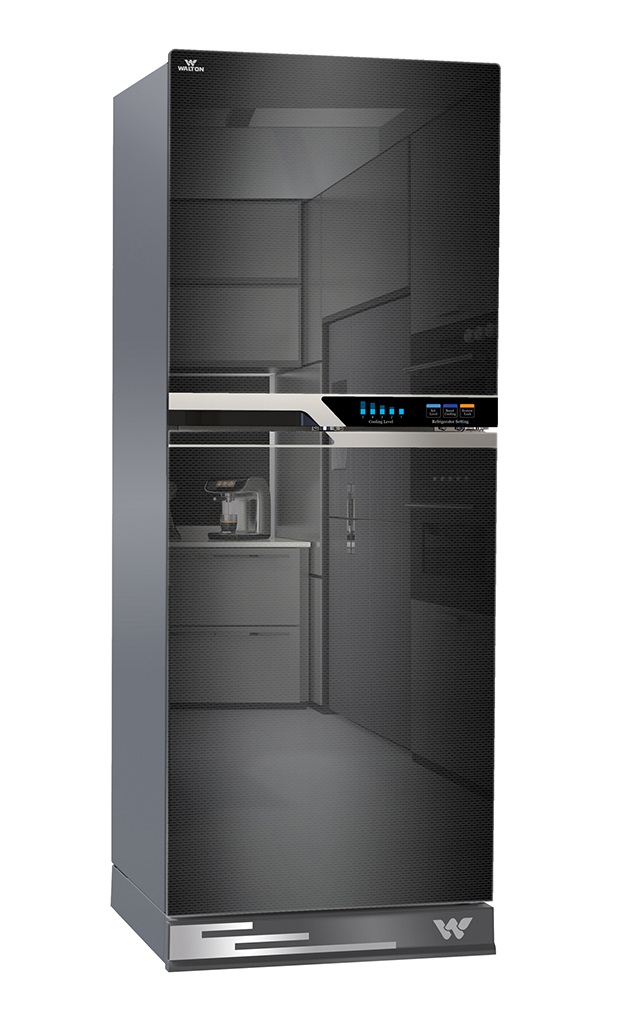 This direct cool premium refrigerator in Bangladesh has glass doors, so it is very good looking and stylish. It comes with the special Nano health care technology like all other Walton appliances. The temperature control is electronic and the defrosting has to be done manually. There are four-door baskets so that you can organize stuff accordingly. It has a net volume of 333 liters.
Premium Refrigerator: WFE-3A2-GDEL-XX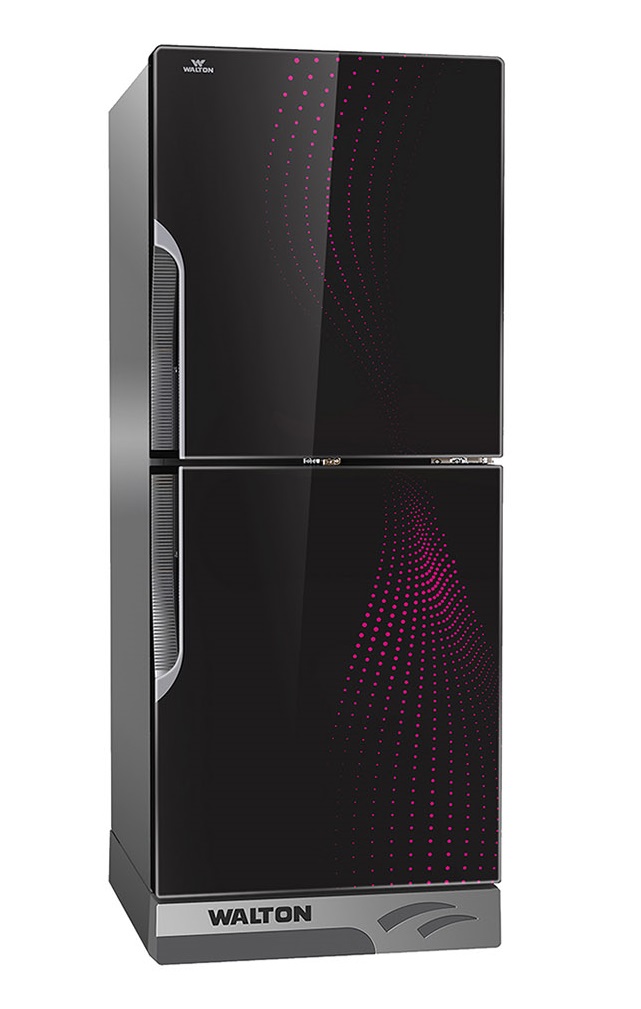 This is another great direct cool refrigerator that does not need any voltage stabilizer. It has a gross weight of 72 kgs. The defrosting has to be done manually, and the temperature control is mechanical. It comes with a lock as well. There are shelves and other attachments that make sure the vegetables and fruits are fresh and crispy. The net volume of this premium refrigerator in Bangladesh is 290 liters.
Premium Refrigerator: WFB-2E0-GDXX-XX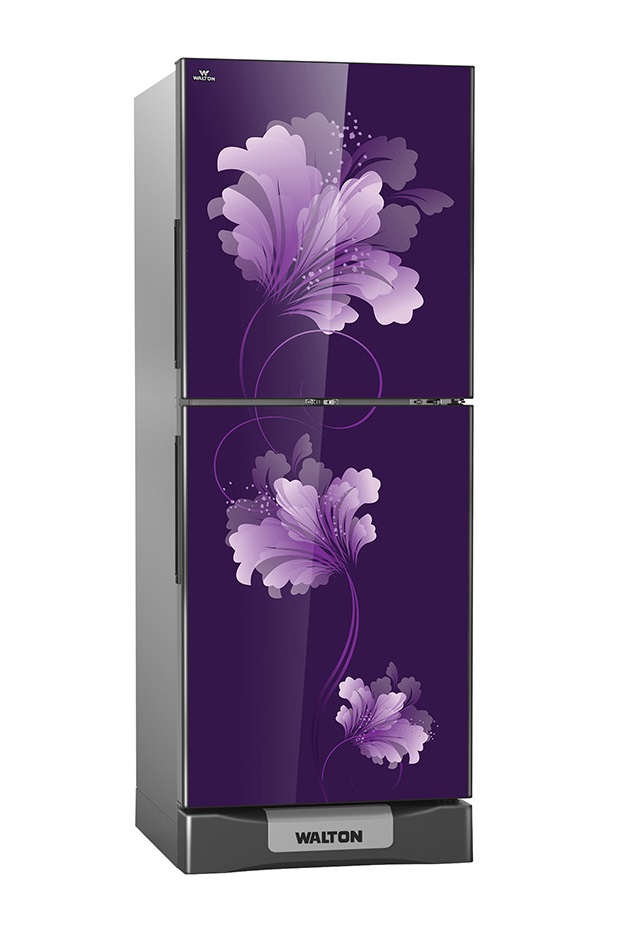 This model of premium refrigerators from Walton in Bangladesh has a refrigerant type of R600a. It has a lot of shelves and trays, so organizing your stuff is very easy for you, and it is hassle-free too. The grip on the fridge is strong, so the handle is friendly to use. Altogether, it is a great and reasonable option. This direct cool refrigerator has a capacity of 255 liters.
Premium Refrigerator: WFB-1H5-GDXX-XX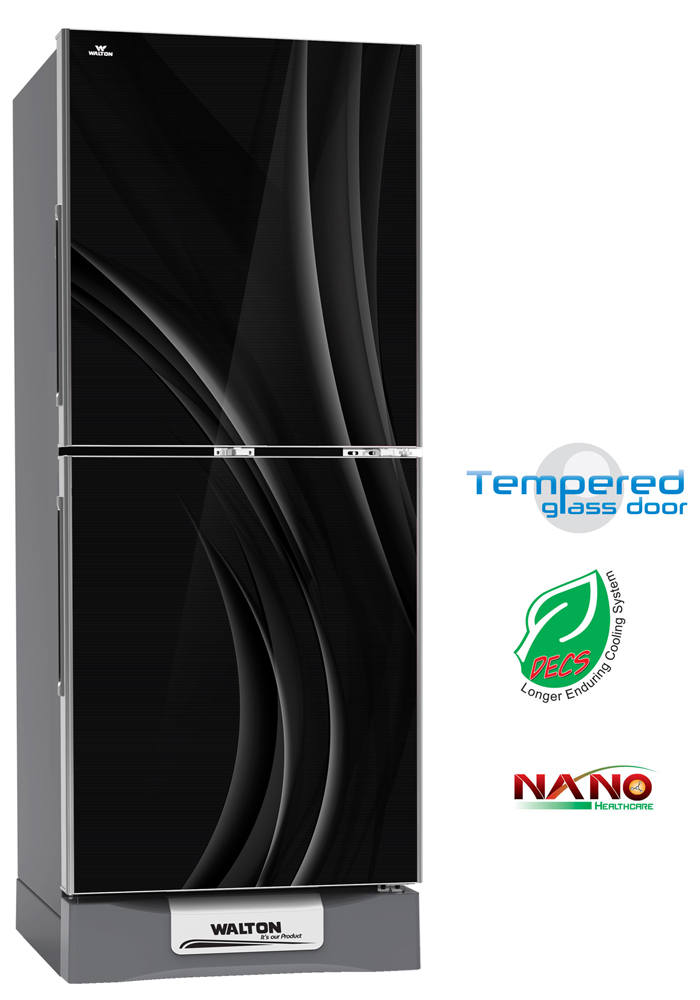 This is one of the most hyped premium refrigerators in Bangladesh. It comes with a variety of internal attachments so that it can be very useful and easily managed by the users. There is a lock for this best refrigerator, and the handles are easy to grip too. In total, if you buy this, you are making a great choice.
IT IS TO BE NOTED THAT ALL WALTON FRIDGES COME WITH 100% COPPER CONDENSER AND THE THERMOSTAT IS RoHS CERTIFIED. THE CAPILLARIES ARE MADE OF COPPER, AND THE FREEZER CABINETS MOSTLY HAVE A TEMPERATURE BELOW 18 DEGREES CELSIUS, THE REFRIGERATOR CABINET'S TEMPERATURE STAYS BETWEEN 0 TO 5 DEGREES CELSIUS.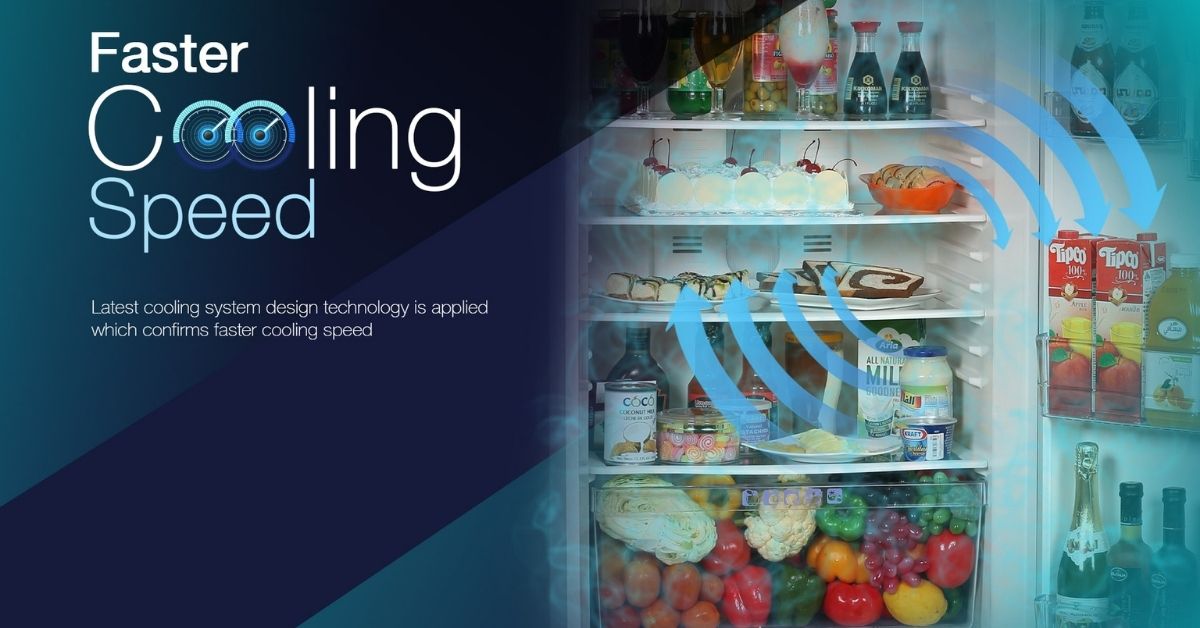 Premium Refrigerator Buying Guide
You require the best quality fridges for yourself, irrespective of where you live and how many people live with you. Refrigerators cost a good amount of money, so you need to make sure that when you are finally purchasing one, it is worth the whole expenditure. For you to do this there are a few things that should be taken care of by the buyers themselves. The buying guide given below will help you have a better understanding and knowledge about the thing that should be checked and taken care f before you make the final decision of bringing home a premium fridge.
Size Matters
The key to a perfect-sized no.1 fridge is to know where you want to set the fridge in. After that, you should write down the measurements of the dimensions, so that when you are in the shop looking for your best quality fridge, you have a clearer idea of the size of your refrigerator in Bangladesh.
How Much Do You Need?
The size of your premium refrigerator in Bangladesh also depends on how much you shop, and how many people are going to use it. Roughly, if you are going to buy a fridge for only one person, a capacity of 50 to 80 liters would be enough. Likewise, a family or group of 3 requires a maximum of 250 liters and a family of 5 or 6 or more needs a refrigerator that has a minimum capacity of 250 liters and a maximum of 490, in that particular order.
Which Style To Choose
When it comes to premium refrigerators in Bangladesh, you can find different types of no.1 refrigerators. To start with, we have a single door one. This is the most common type of fridge and is perfect for a family of one or two. They are the cheaper and the more affordable option too.
The double door refrigerator is the most popular type of fridge, and here the freezer is above the main storage. They are the perfect companion for a family or a group that has 4 members. These fridges do consume more energy than the single doors one, but the energy-saving ones do not.
The bottom design refrigerator is not very widely seen in our countries, but here, the freezer is at the bottom rather than being at the top. The advantage of this design is that it is very convenient to use, and the storage area where you store the fresh and most needed products is more easily accessed.
When it comes to the side-by-side fridges, you will see that they are split in half. These are the expensive and fancier ones. The advantage of this design is that it helps you to place foods on eye level, even in your freezer as well. These are extremely spacious, and if you are looking for a premium fridge in Bangladesh that will serve your family of 6-7, then you should go for this.
The premium fridges with French doors are for the ones who want their fridges to look very attractive and sleek. The advantage of these is that they are extremely spacious and have shelves to organize accordingly.
When it comes to smart fridges, they get the upper hand by being very easy to maintain and operate. You can control this premium fridge in Bangladesh with the help of your smartphone through wifi. These cost a great deal too.
Lastly comes mini-fridges, and if you are someone who is looking for something small, cheap, and gets the work done, then this is the right option for you.
Are They Energy-Efficient?
When you are choosing a refrigerator, always look for the energy star label, as they will help you to understand. This is a very important factor, as they will help you to cut down your monthly bills, and will be light on your wallet too.
The Warranty
It has been noticed, that some of the new refrigerators come with a limited warranty, so before you make a decision, you should talk with the retailer and ask about the warranty. Extended warranties do cost more compared, but it is worth the money.
Lastly, comes the cost and the materials. Price is an important criterion, but it solely depends on your budget and capacity. The key here is to look around and not choose the first thing you see. When it comes to the materials, they should be of good quality and be durable, as you will be touching and opening the fridge very often, so they have to be good enough to withstand this pressure.
Whichever the factor is, if you look around the fridges in Walton, you will see that all these criteria are fulfilled. Moreover, the premium refrigerators in Bangladesh from Walton are very safe to use too, so when you are choosing Walton, you are making a sensible and great decision. On top of everything, Walton has something for every type of person and every type of budget, so you will not be disappointed, and as their first priority is the satisfaction of their customers, you will get the maximum priority.